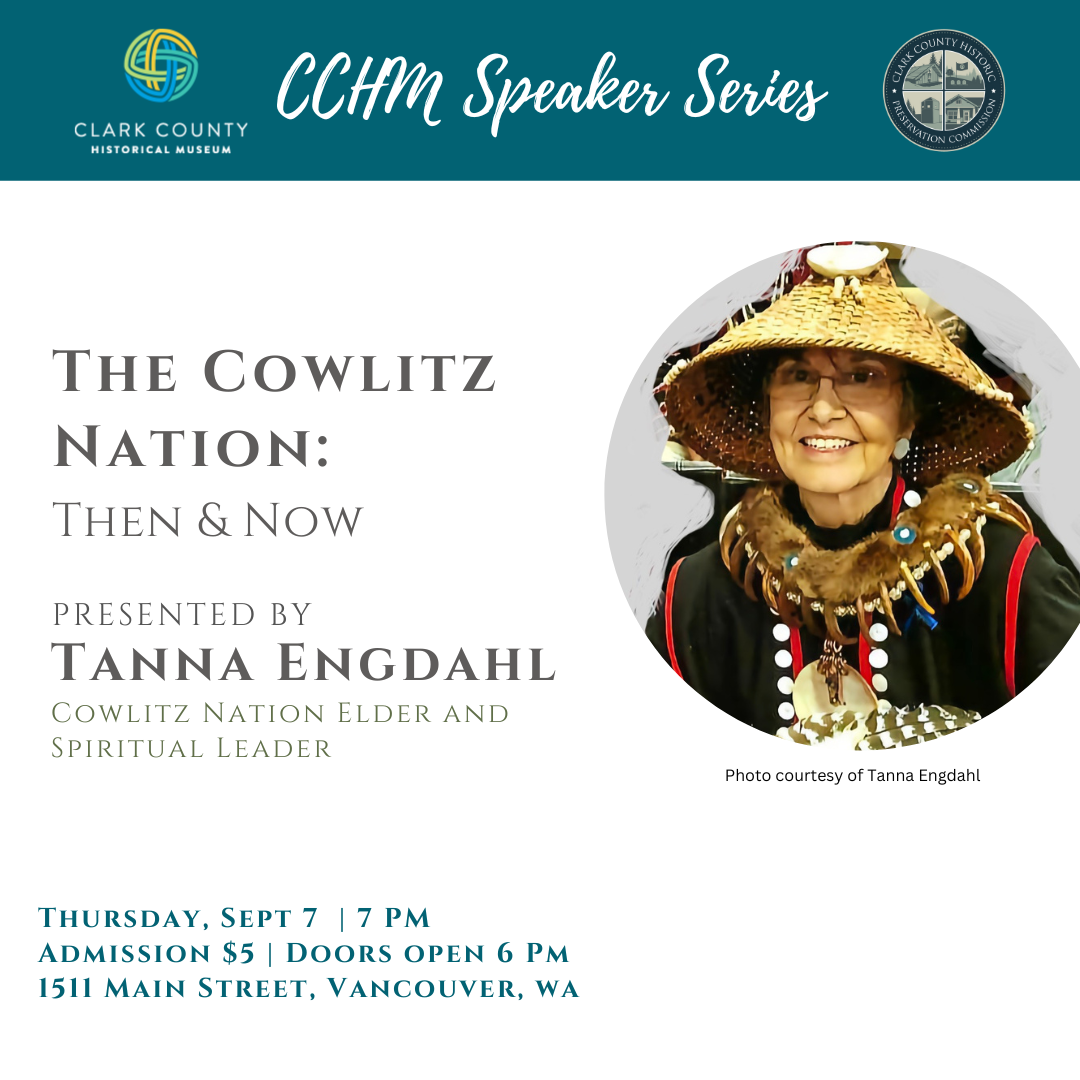 Clark County Historical Museum is excited to welcome Cowlitz Tanna Engdahl, as she presents "The Cowlitz Tribe: An Enduring Legacy" for September's CCHM Speaker Series. The event will occur on Thursday, September 7, 2023 in person at the Clark County Historical Museum (1511 Main Street, Vancouver, WA 98660). Doors open at 6 p.m. and the event begins at 7 p.m.
Join Cowlitz Tribe Elder and Spiritual Leader, Tanna Engdahl, as she presents the history of the Cowlitz Tribe, their struggles both before and after the Treaty Era, and the ongoing legacy of their stewardship of their traditional lands.
Since the beginning of time, the Cowlitz Tribe have nurtured the lands and waters throughout major parts of Southwest Washington. Like many of this country's First People, the Cowlitz have dealt with significant challenges since initial contact with the Europeans and the Americans that came after them. Despite all this, the People endure and remain a vibrant part of Southwest Washington. Their contribution to the natural and cultural landscape continues today through their charitable giving, environmental expertise, and the sharing of their stories and knowledge.
Tanna Engdahl is an Elder and Spiritual Leader in the Cowlitz Indian Tribe. At the beginning of her career, Tanna competed for a special scholarship to Columbia University and was hired by KIRO-TV as the first major-market American Indian TV news reporter in the U.S. At the same time, she served as the Tribe's Vice-President.
She left the newsroom to engage in a thirty-year career in public land agencies: Bureau of Indian Affairs, Bureau of Land Management and the National Park Service. During that time, she was selected to a Federal Leadership Academy and spent many years in management positions. In this role, she encouraged Federal sensitivity to tribal sacred sites and was in the forefront of a movement to establish Indian cultural committees within the Government. Upon retirement, she joined Mike Iyall, the Tribe's senior historian, in presenting Cowlitz history to schools, colleges, community organizations, Federal and State agencies and other public venues. She also champions conservation projects and health programs for which the Cowlitz Tribe is known for.
As a volunteer, Tanna serves on the Ridgefield National Wildlife Refuge Board and Washington State University's Native American Board Community Advisory Board. Her spiritual work is dedicated to Tribal activities and events. She also officiates at weddings, funerals and other lifeway celebrations.
The CCHM Speaker Series is sponsored by the Clark County Historic Preservation Commission and League of Women Voters of Clark County. General admission is $5; seniors and students are $4; children under 18 are $3; and the evening is free for CCHM members, veterans, and active-duty military personnel.
For more information, contact the museum at 360-993-5679 or [email protected].