Main Street Tax Incentive
Ready to Support your Community?
The Washington State Main Street B&O Tax Credit Incentive Program allows businesses to make a donation to the Vancouver's Downtown Association and in return, earn a 75% state B&O tax credit on that amount. In addition, the donation is eligible for a federal tax deduction. A powerful way to support your downtown!
Michael Walker, VDA's Executive Director, is here to help guide you through this process. Please contact him at [email protected]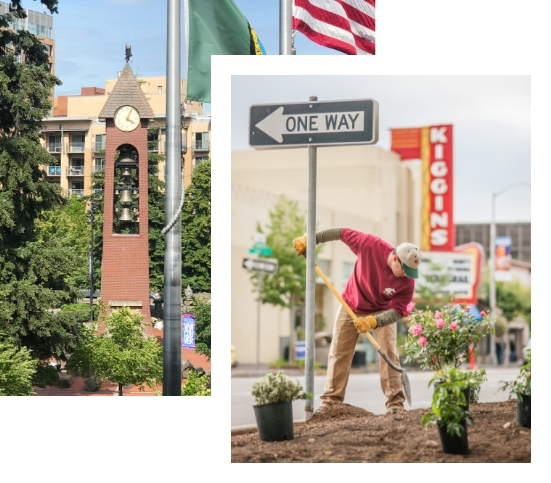 Step 1 // Visit the Department of Revenue Website
Visit the WA Department of Revenue website and follow these step by step instructions to make a pledge:
Starting January 2023, go to: secure.dor.wa.gov
Log in
Click on "Get Started" link
Click on your "Excise Tax" account
Click "Credits" in the toolbar
Click on "Add Main Street Application"
Find Vancouver's Downtown Association and enter the Contribution
Amount; click next
Fill out Authorization Information and click Submit.
Step 2 // Make a Donation!
Step 2: Before November 1, 2023 make a donation to the VDA. You can make the donation online or mail a check to the following address: VDA, 811 Main Street, Vancouver, WA 98660
Step 3 // Check your Account
On January 2024, when you go to pay your B&O online, you will have the credit available in your account. It's really that simple!
Thank you so much for supporting Vancouver's Downtown Association!
Donate to the VDA and receive a state B&O tax credit of 75% of the donation amount.
Receive a federal tax deduction for the remaining 25%.
This is a way to direct your tax dollars right back into your community.
Pledging for the program starts the second Monday in January.
Pledge by March 15th, pledging early is best!
Each Main Street city has a cap of $170,940 in donation pledges in Q1.
Pledge early but your donation to the VDA can be made as late as November 1.
Pledges are made on the Department of Revenue website.
The federal tax deduction can be taken in the same year as the donation and the state B&O credit becomes
available starting January of the following year.
Any donation amount works.
Credits may not be carried over to subsequent years.
Anyone who pays B&O taxes in Washington can contribute to any Main Street Program in Washington (you don't have to be in downtown Vancouver).
This program is unique to Washington and has been a proven economic catalyst for historic Main Street towns since 2006.
*Please note: Interested contributors can confirm the full extent of these tax benefits with their accountant. Want to learn more? Contact [email protected] or call (360) 258-1129.
Thank you to all our B&O Program Donors! Your support makes a difference in the vitality of our downtown.
2023
City of Vancouver
Columbia Bank
Divine Consign
Heritage Bank
Johnson Bixby & Associates
Integrated Tax Services
2022
City of Vancouver
Columbia Bank
Divine Consign
Heritage Bank
Johnson Bixby & Associates
Integrated Tax Services
2021
City of Vancouver
Columbia Bank
Heritage Bank
Johnson Bixby & Associates
Integrated Tax Services
2020
Bader Beer and Wine Supply
Biggs Insurance
Divine Consign
City of Vancouver
Columbia Bank
Heritage Bank
Johnson Bixby & Associates
Integrated Tax Services
NW Media Collective
2019
Bader Beer and Wine Supply
Biggs Insurance
City of Vancouver
Columbia Bank
Great Western Malting
Heritage Bank
Integrated Tax Services (Johnson Bixby & Associates)
KMS Financial Services (Johnson Bixby & Associates)
2018
Albina Fuel (for the 9th year)
Bader Beer and Wine Supply
Biggs Insurance
Columbia Bank
Great Western Malting (for a 4th year)
Heritage Bank
Hi-School Pharmacy
KMS Financial Services (Johnson Bixby & Associates)
2017
Albina Fuel (for an eighth year)
Great Western Malting (for a third year)
Pacific Continental Bank (for a fourth year)
Horenstein Law Group, LLC (for a fourth year)
Hurley Development (for the first year)
Atlantic & Pacific Freightways Inc (for the first year)
LSW Architects (for the first year)
The Source Climbing Center (for the first year)
Other Donors
Bank of Clark County
Biggs Insurance
Columbia Cascade
Columbia Machine
Corwin Beverage Co.
Currie-McLain
DSP Architecture
First Independent Bank
Gift Services
International Air Academy
Kiewit Infrastructure West
Miller Nash
Pacific Continental Bank
Pacific Continental Bank
Phoenix Industrial
Riverview Community Bank
RSV Construction Services
Schwabe Williamson and Wyatt
Scott Horenstein Law
The Al Angelo Company
The Columbian
The Holland/Burgerville
The Mekos Corporation