A Force for Public Art in Vancouver
Vancouver's Downtown Association has a long history of investing in unique public art to enrich our city center and create a place that is unlike no other in the world. In the past 10 years, VDA has invested over $350,000 in various art projects throughout our downtown.
12th & Main Artlet
July 2020
The 12th & Main Artlet project will install a parklet with artful treatments at an important downtown intersection, along with complementary painted crosswalks and bulb-outs and the artful treatment of the blank façade of an adjacent parking structure.
Expected completion: July 2020
Bike Art Park on Main
July 2020
The Bike Art Park on Main project will install two bike corrals on Main Street. The corrals' bike racks are planned to be custom-designed and incorporate artistic features that celebrate architectural designs from local, historic buildings as well as cultural icons of Downtown Vancouver, along with complementary street art murals painted on the asphalt beneath the corrals.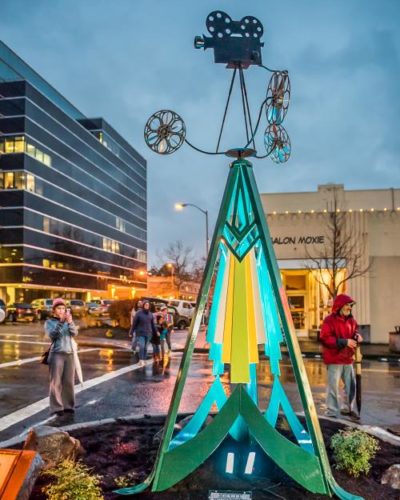 Movie Madness
2017
Movie Madness was unveiled in downtown Vancouver on a First Friday, March 3, 2017. The kinetic piece is meant to honor Vancouver's 12 historic downtown theaters, including the Kiggins Theatre, which is the only one still operating.
Local artist Paul Springer created the piece, incorporating three original film reels from the Kiggins Theatre into the top, which resembles a movie camera. When the wind is right, the reels will rotate slightly. Its design kept the Kiggins' art deco style in mind.
Movie Madness is 13 feet tall and 750 pounds. Its acquisition and installation was a joint effort between the City of Vancouver and the Vancouver's Downtown Association.
Artist: Paul Springer
Heart and Stone
2016
SE Corner of Columbia and 6th – 'Heart and Stone' was commissioned by Vancouver's Downtown Association to honor past, present and future women who have been the shapers of our community. The work of local artists Jennifer Corio and husband Dave Frei, the boulder at the base of the 12-foot steel heart weighs in at 3,000 pounds.
Artist: Jennifer Corio, Dave Frei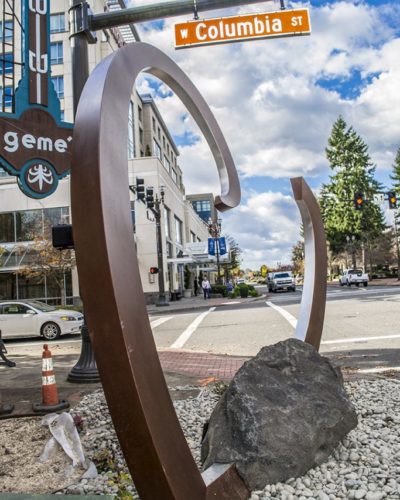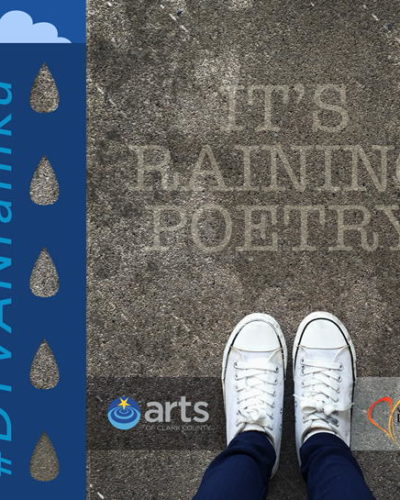 Rainku
2016
In celebration of National Poetry month, haiku and short poems were applied to sidewalks throughout downtown using a special paint which was only be visible in the rain for approximately 2-4 months.
Each poem reflected the downtown Vancouver experience, such as spending time outdoors, attending cultural events, or exploring the city with family or friends. Our aim was to present poems which will lift the spirits of those who come upon them.
The installation was celebrated with an opening celebration and reading, as well as a poetry crawl.
Check out photos of the project on social media using the tag #dtVANrainku.
Turtle Place
2015
Turtle Place is a public plaza downtown on 7th and Main Street. Formerly a C-Tran bus stop, it is now a model of sustainability and urban beauty.
Vancouver's Downtown Association, in partnership with C-TRAN and the City of Vancouver, transformed an underused bus mall into an urban plaza rich with public art, lighting, seating, and other amenities. The plaza was constructed from repurposed materials as a model for sustainable practices.
Turtle Place received the 2009 Award of Distinction for Public Spaces from the International Downtown Association. The annual Achievement Award recognizes the level of innovation, replication, partnerships, and impact for the project
Artist: Mural – Guy Drennan, Sculpture – Wendy Armstron & Greg Conyne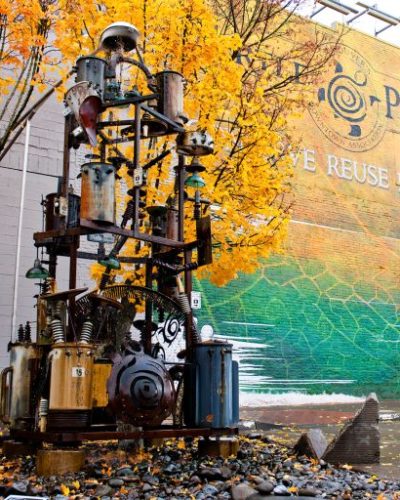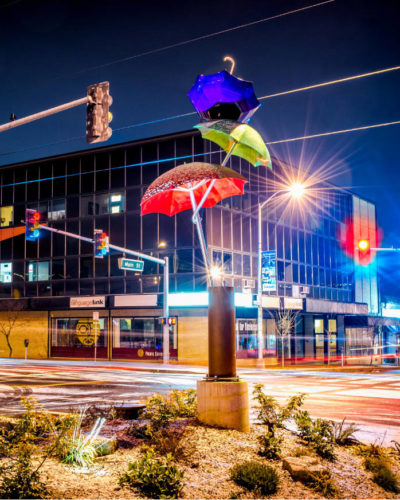 Flying Umbrellas
2012
NW Corner of Main and Evergreen – From a pool of 19 local artists, Cobalt Designworks was selected to produce a stunning art piece. Financial support came from Friends of Carl Dobbs, the City of Vancouver, and the Vancouver Downtown Association.
Artist: Cobalt Designworks
The Phoenix
2010
The Phoenix and its location at 8th and Main were chosen by the late Carl Dobbs, an active member of our Design Committee. Sadly, Carl passed away on October 2, 2010 and was unable to see this magnificent sculpture in its glory, but he was aware of the project and was pleased to know that it was going to become a reality. The Phoenix was funded through grant funds provided by the City of Vancouver. This sculpture helped raise other funds dedicated to public art in our downtown. The community is always pleased to see this kind of investment and is supportive.
Artist: Andrew Carson